---
ONLINE EVENT
This event will take place online through Zoom. Prior to the event, registrants will receive a link and password via email, as well as additional instructions if necessary.
In this mixed media class, students will push traditional drawing mediums of India ink, charcoal, and graphite into a new and creative direction. With the use of an art journal or sketchbook, we will brush on, splatter, drip, pour, and spray India ink while using charcoal and graphite in unconventional ways. Participants will be guided through an investigation of these materials individually and then in combination, manipulating their properties as they create abstract compositions. The results will lead to visual experiences and self-expression toward's the development of one's voice.
MATERIALS:
Please prepare for this online class by ensuring you can secure the necessary materials. with the materials list, links to purchase any necessary items, and other helpful information for class.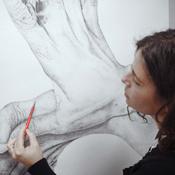 About the instructor, Dana Harel:
Dana Harel was born and raised in Tel Aviv, Israel. She received a Bachelor of Architecture degree from the California College of the Arts in San Francisco. Harel's drawings evolve organically, fusing themes of man and environment. Her understanding of form through architecture leads to transformative depictions of human and animal, offering us an idea and not solution to our own internal struggle. Harel's exhibitions have appeared in galleries around the world.
---
• Join & share on Facebook
---
RELATED: